Users these days are offered a wide range of services to digitally sign certain operations: think, for instance, in the processes when we submit our taxes, or when we make a bank transaction. A digital signature is a cryptographic mechanism that allows the recipient of a signed message to believe:
That the message was created by a known sender (authentication), and that the sender cannot deny having sent the message (non-repudiation).
CConfirm that the message was not altered in transit (integrity).
Directive 1999/93/CE issued by the EC sets forth a common framework for electronic signatures by transposing said Directive to the national legislations of member countries.
In order to adapt the existing signature technologies to the abovementioned Directive, norms TS 101 733 & TS 101 903 have been enacted. These norms define the technical format of an electronic signature. The first one has the classic PKCS#7 format; the second one is a XML Digital Signature, developed by W3C consortium.
Using a digital signature brings you an array of advantages:
More security: the digital signature bears a full digital guarantee and higher controls and reliability than the handwritten one, as set forth in  Act 59/2003 of Electronic Signatures.
Cost saving: you don't need to move and you can save paper and file space…
Time saving: the signature can be written online, without need to be present in the case of joint signatories.
Space saving: documents don't need to be printed to be legal.
Environmentally friendly.
Makes process management more agile.
Improves and guarantees document management.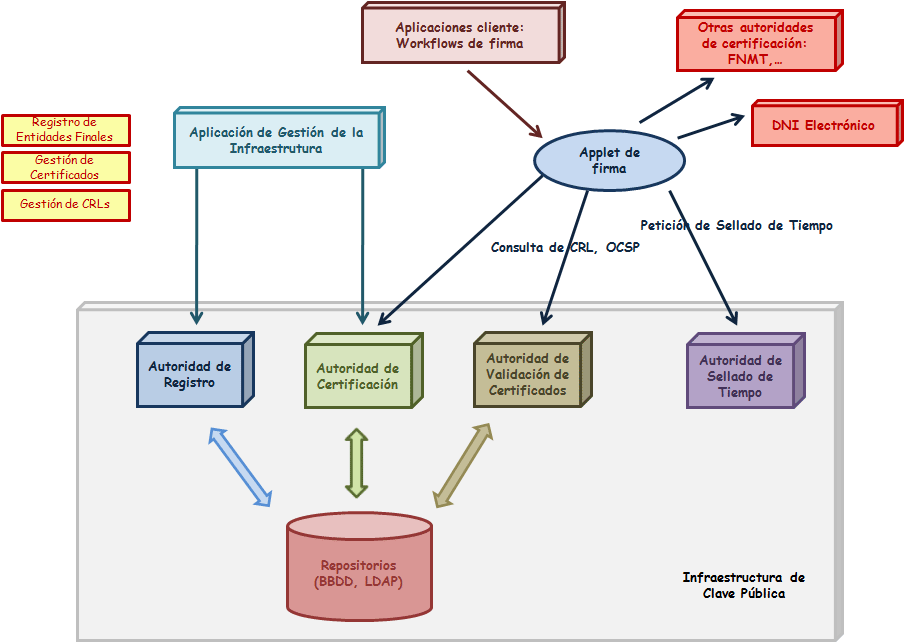 CRC Information Technologies offers an integral solution in digital signatures:
We provide our clients with the necessary Public Key Infrastructure (PKI) to manage cryptographic elements (certificates and associated private passwords) necessary to write the digital signature.
We define apps and necessary work flows to support joint signatures, according to your business needs.
FWe provide the necessary means to generate digital signatures either at server level, if you have decided to generate your own PKI, or to write them with your certificates or third party certificates, such as electronic ID or FNMT certificates, or at client level, by means of Java applets.
Using these tools, we are able to sign HTML forms, XML documents, PDF documents or any other type of generic document.