Time management becomes essential particularly in large businesses.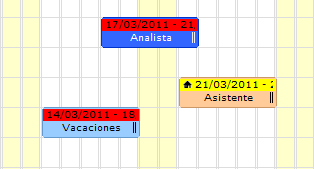 CRC Information Technologies collaborates with its clients developing time management systems, creating applications to define tasks or works in which the activity can be subdivided, how you assign staff to different tasks, shifts and schedules or how to manage vacations and leaves of employees.
Normally, in order to efficiently plan these resources, all this management is done visually, through Web applications, with user interfaces that offer a functionality analog to Gantt diagrams, habitually used in products such as Microsoft Project or other alike tools; however in a totally distributed and unlocalized, concurrent and reliable way. This type of edition additionally offers a general view of how the set of resources is planned. In this way, you can, for instance, verify that no task is unattended, or that a certain employee is not receiving more work load than the one he/she can tolerate.
This know-how, acquired throughout the years and in different projects, makes CRC Information Technologies highly competitive in the analysis, design and implementation of this type of systems.