Tracking employee's hours at workplace can make an impact on the business.
Throughout the years, CRC Information Technologies has collaborated with its clients to carry out different projects related to this issue, ranging from the implementation of communication protocols, with which time clock servers and devices communicate, to the definition of tools to manage and adequately analyze time clock apps used by employees.
In this sense, we have developed a bespoke communication solution, which offers, among others, the following advantages:
Have time clock information in real time, without the need of checking the information off line, and associated cost and tools, provided by the manufacturer.
Have mechanisms that let us know in real time the status of time clock mobile devices in your business, and the tools necessary to manage them "in their own language".
Provide customized messages to employees according to the variables the business considers relevant.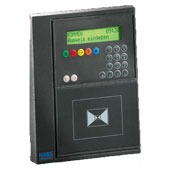 EThis solution involves a great deal of technology, ranging from C-language implemented code for a suitable communication performance in real time with time clock mobile devices, to Java and JEE and Spring technology, used in the implementation of associated managerial and monitoring tools.
This versatility has become one of the essential keys in the development of an integral solution that brings added value to our clients, otherwise limited to the restrictions and/or surcharges imposed by manufacturers.